News-Blog 2019
Nos golfettes partent pour la révision professionelle...bringing our golf caddies to professional maintenance
...c'est avant la saison...beaucoup de travail à faire dans l'atelier....after season is before season, a lot of work for us to do...nach der Saison ist vor der Saison: viel Arbeit für unsere Werkstatt-Crew
Il pleut beaucoup...
au moment dans notre région, notre starter risque d'etre perdu...it's raining a lot in our region at the moment, we are a bit afraid of our installations...der starke Regen der letzten Tage nagt an unserem Flugplatz und macht uns Sorgen
...c'est intéressant de regarder notre webcam, parce que c'est peut-etre beau ce qu'on voit là-bas...sometimes, you may see beautiful images sent by our webcam...manchmal lohnt sich ein Blick auf unsere Webcam...
merci à tous pour le coup de main......... thanks to all helping hands ......... l'onde au dessus du glacier blanc le 27.09.2019 (cliquez sur la photo) ......... Wave-soaring above white glacier the 27.09.2019 (click on picture)
Marcelo avec son instructeur Christian, son éxaminateur Jean-Philippe et son conseilleur Momo après le test.... A brandnew pilot in La Motte du Caire. Marcelo with his instructor, his examinator and his consulting engineer Momo after the test.... Marcelo hat gestern seine theoretische und praktische Prüfung bestanden mit Jean-Philippe Bayart (Verein) als Prüfer.
voilà...
...un starter de haute gamme....here our professional starter....unsere professionelle Flugleitung...
Vélo en toute sécurité...
En cas qu'il s'endort immédiat sur place...in case he falls asleep immediately
Encore une bonne soirée de sanglier...Nice evening in La Motte eating a wild porc
Canicule à La Motte... heatwave in La Motte du Caire...
Félicitations!
- Notre élève pilote Robinson avec son instructeur Bart après son lâcher. Félicitations à tout les deux !...A first solo at La Motte: Robinson and his instructor Bart, congratulations!...Flugschüler Robinson und sein Fluglehrer Bart nach dem ersten Alleinflug: Allzeit gute Landungen!
...Bart monte son "nouveau" Pegase pour faire un joli vol...Barts new glider, a modified Pegase: have a lot of good flights!... Bart hat seine umgerüstete Pegase bekommen: Guten Flug!
Un peu de neige....
...est tombé ce matin, on est en train de monter des skis...it snowed last night, today we are skiing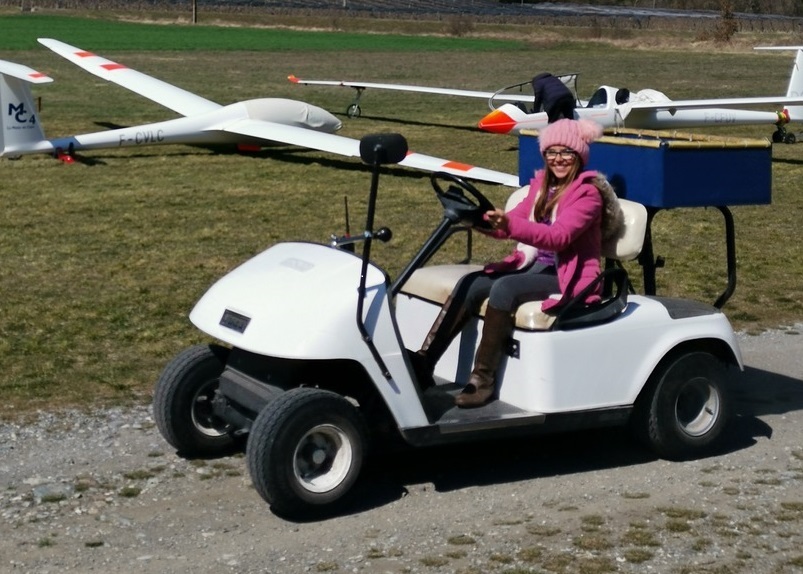 Bonne nouvelle!
Larissa en plein préparations pour le permis golfette... Larissa preparing her driver licence for the golfcart... Larissa bereitet sich auf ihren Golfette-Führerschein vor...
Félicitations de toute l'équipe La Motte du Caire et tout les amis pilotes. Toujours jeune notre fidèle ami--------- It's Momo's birthday today! Happy birthday from the whole team of La Motte to our wonderful friend! --------Herzlichen Glückwunsch zum Geburtstag, lieber Momo!
On aime bien notre "Oldman"...
On aime bien notre "Oldman", on voit bien le résultat... We love it so much, our new winch "Oldman", that we even improve the quality of its surface...
L'an 2019: 33 ans CVVMC...our club is 33 years old...33 Jahre CVVMC: ein Grund zum Feiern!
Pour fêter son 1/3 de siècle d'existence le Club de la Motte offre un discount exceptionnel de 12% sur les treuillées, vols sur planeurs club et camping sur la période du 10 mai au 21 juin 2019 inclus....Jubiläumsaktion: Zur Feier des 33-jährigen Bestehens unseres Vereins gewähren wir einen Preisnachlass von 12% auf alle Windenstarts, Flüge auf unseren Vereinsmaschinen und Campinggebühren im Zeitraum vom 10. Mai bis zum 21. Juni 2019....because of 33 years since foundation of our club, we offer a discount of 12% for all winch-launches, on the fees for our gliders and the camping fees from may, 10th to june 21th.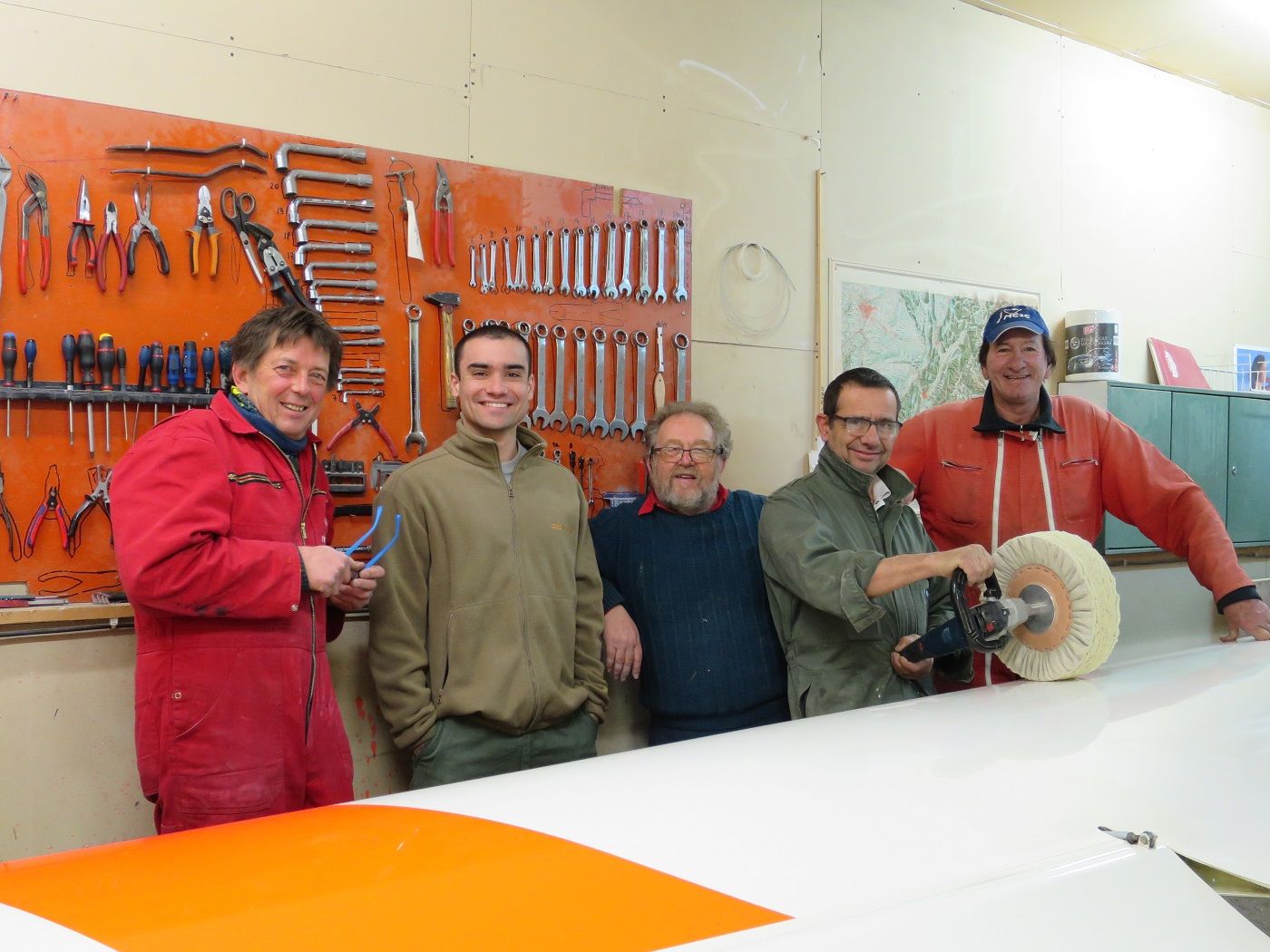 Efficacité maximum....
... quatre inspecteurs des travaux pour observer le labeur de Jean-Charles... four inspectors controlling one who is working... vier passen auf, was einer arbeitet, so muß das sein...
Nouvelles 2019: Merci...
Merci à tout le monde pour la participation à la caisse pénal, l'équipe des mécanos vient d'investir dans un palan qui soulage bien notre travail...Danke für Euren Beitrag zur Spendenkasse, wir haben damit in eine grosse Erleichterung für die Werkstatt investiert....thank you very much for your donations to our penalty-box, the money is used to install a great support for our workshop.