News-Blog 2018
Lettre aux membres Noel 2018....letter to the members christmas 2018...Weihnachtsbrief 2018
La saison est finie pour cette année, mais nous revons déjà de l'année prochaine / the gliding season is over for this year, but it is allowed to dream about next year...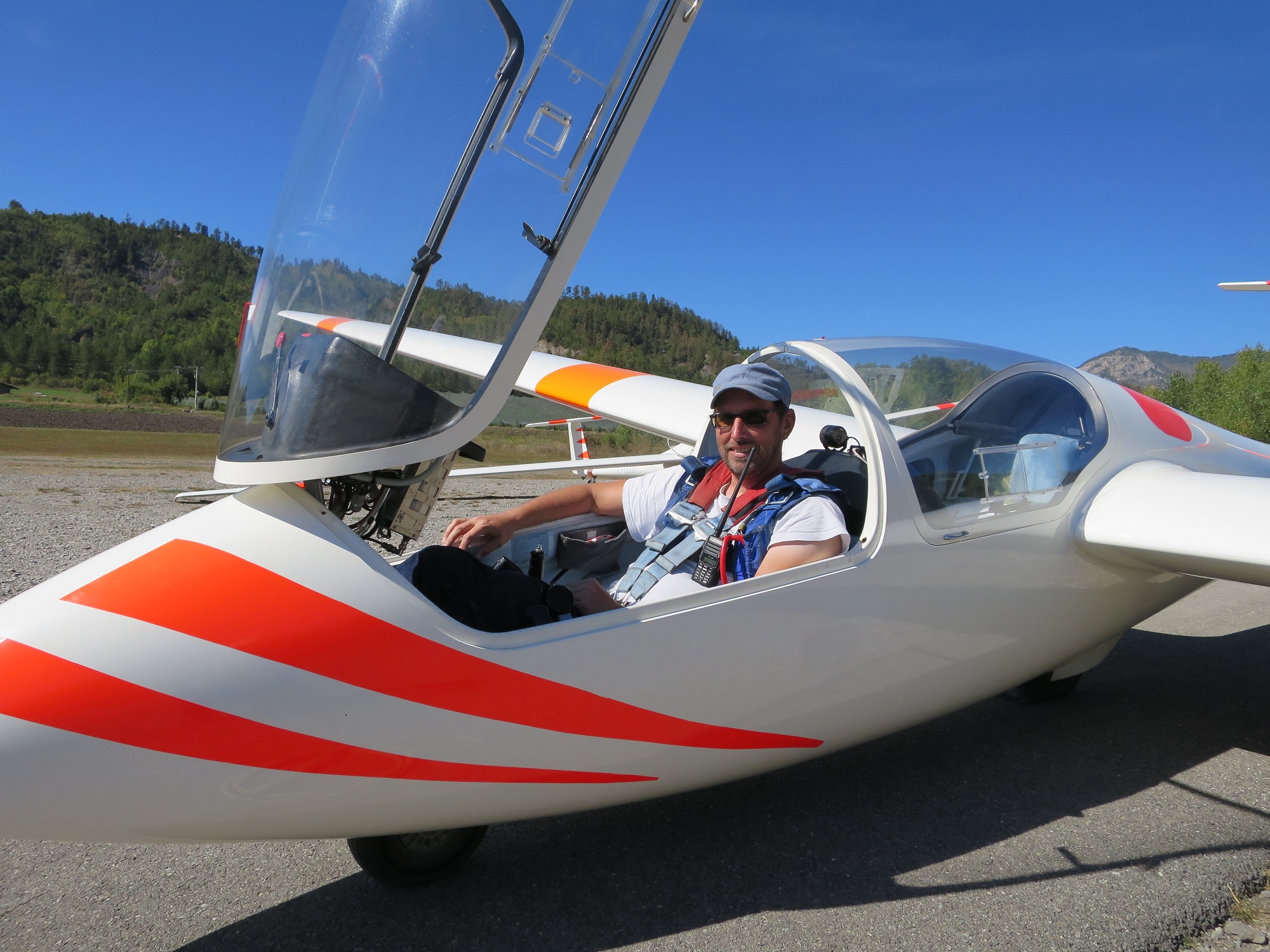 Bart a fait son "Solo"
Il a fait son deuxième "solo" hier: cet fois ci en ASK-21 avec l'équipement malonnier...Bart did his second solo-flight: this time with the hand-equipped ASK-21 of our club
Les "Duckies" joueront au club house après les vols vers 20h samedi 25 aout / Live music: The "Duckies" will play at the clubhouse saturday evening on august 25th after the flights...
2 fotos de la journée / 2 photos of this nice day
Félicitation !!
On est fier de présenter: 2 vols à 1000 km in La Motte du Caire le 13 juillet: Stéphane André avec le Ventus 2b et Christian Bentz et Karl-Walter Bentz avec l'Arcus M............. Congratulations !! We are proud to present: 2 flights of 1000 km in La Motte du Caire: Stéphane André with the Ventus 2b and Christian Bentz together with Karl-Walter Bentz with the Arcus M
En Arcus M / Flying an Arcus
Momo et Ralf Müller se régalent en Arcus M.... Momo and Ralf Müller enjoying the flight in the Arcus M
La Motte du Caire invite les femmes pour une journée de découverte de vol à voile ----- The club of La Motte is inviting women and girls to get in touch with our wonderful gliding sport for a whole day
Notre ami Marc, venant de la Belgique, profite de l'équipement malonnier du K21 "MC" pour découvrir le vol en montagne ----- Our belgium pilot Marc benefits from the hand control of the K 21 "MC" to discover the mountain flying.
Momo sur le véhicule de fonction allant vers des nouvelles aventures.... Momo on the "company-vehicle" going to new adventures...
A La Motte, on vole bien, et on y mange encore mieux! Momo a préparé une excellente fondue de cèpes pour la soirée du vendredi, une tradition immuable............In La Motte, we have wonderful flights, and even better meals on friday evenings. This time, Momo has prepared an excellent cheese fondue with mushrooms.
This email address is being protected from spambots. You need JavaScript enabled to view it.
Nous désirons commencer une bibliothèque d'articles concernant notre club. Si vous voulez bien partager avec nous votre vie, vos émotions de pilote en vol ou au sol, envoyez-nous textes et photos. Nous le mettrons dans cette rubrique. Nous allons aussi, en remontant dans le temps, recenser les articles marquants sur le Club de Vol à Voile de La Motte du Caire parus dans diverses revues, spécialisées ou non............We wish to start a compilation of articles concerning our club. If you agree to share with us your life and emotions as a pilot on the ground or in the air, send us text and photos. There are also noticeable articles published in magazines about the CVVMC that we are interested in. Mail to: "
This email address is being protected from spambots. You need JavaScript enabled to view it.
"
Dans le menu "divers-liens" vous trouverez le lien "KTRAX" (planche de vols OGN de La Motte) et le "Tracking", montrant tous les planeurs en vol en Provence...........................You can find new links in the "various menu" named "KTRAX", showing all the flights from La Motte and the link "tracking" showing all the activities in the air in southern France, have fun!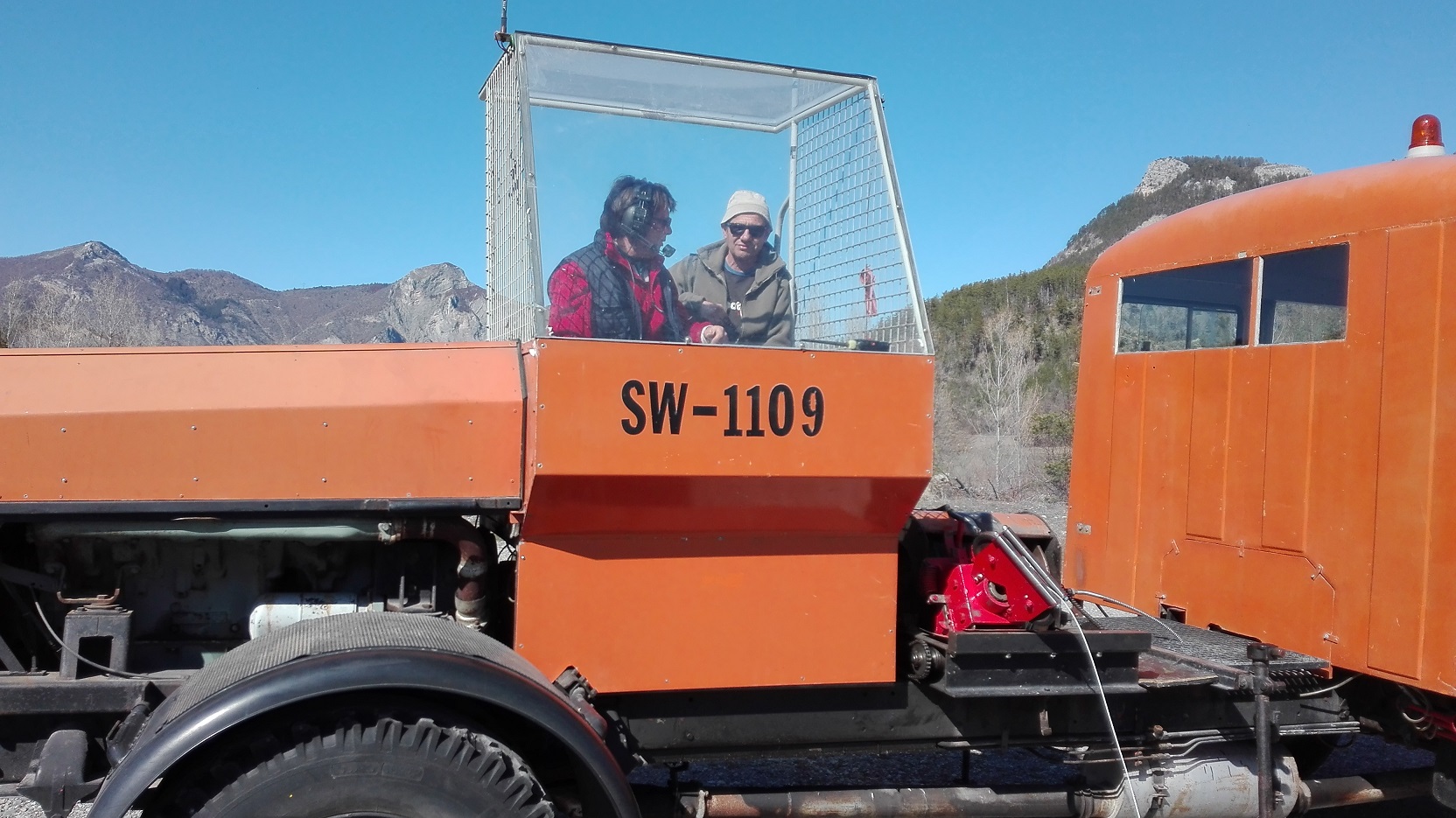 Nouveau treuil / new winch
Le premier essai du "Oldman" s'est bien déroulé. Sa technique serieuse et simple nous convient parfaitement................................. The first test in La Motte with the "Oldman" was very successful. We appreciated its simple and serious engineering.
La deuxième webcam (hangar) est remise en route. Vous voyez Momo sur le tracteur?? ..............................The second webcam (view from the hangar) is online again, have a look at Momo riding his tractor ;-)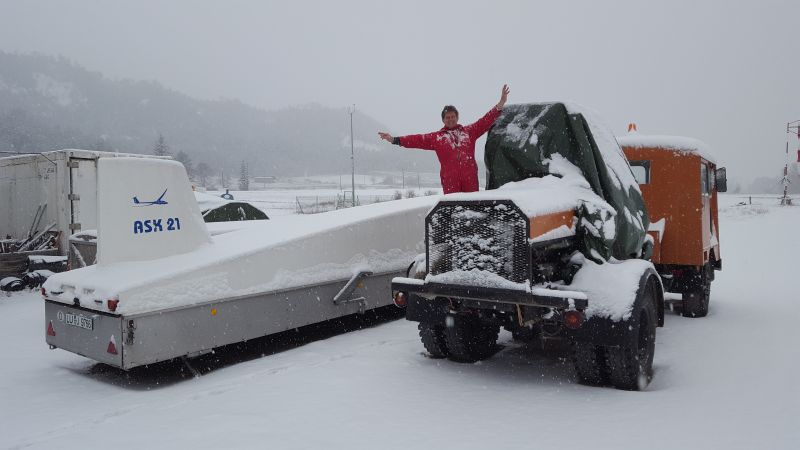 Début mars: un peu de neige
L'hiver continue, 30 cm de neige fraîche sont encore tombés pendant la nuit----------------Wintertime still here, we received 30 cm of fresh snow…
Ouverture les 24 et 25 février 2018 / Opening of the season on February 24th and 25th
Le Club de Vol à Voile de La Motte du Caire vient d'ouvrir ses portes pour la nouvelle saison. Tous les planeurs ont été montés grâce à l'aide des membres venus de la région, et parfois de fort loin. Seul notre ASK 21 est resté dans l'atelier car la francisation est toujours en cours. Le kit malonnier est installé et l'équipe s'occupe des derniers travaux pour la visite. Malgré des mauvaises prévisions météo le soleil s'est montré, et les premièrs thermiques nous ont permis des vols d'une à deux heures. Comme le veut la tradition, le club a invité tous les acteurs pour une raclette le samedi soir.-------------------------- The gliding club of La Motte du Caire began the new season. With help of the regional and other venue members, all gliders were rigged and all materials were installed. Only our ASK 21 remained in the workshop for the final finish, and the change of registration. The modification for disabled pilots is done. Even if bad weather conditions were forcasted, we had some sun and even a few thermals allowing to fly an hour or two. Of course, all the members were invited by the club for the "Momo-Raclette" evening.
L'hiver 2017/2018 / working during winter
Dans l'atelier des sciences, nous préparons les planeurs avec toute la delicatesse et le sérieux nécessaire pour la nouvelle saison...... In the scientificworkshop, the team of La Motte is using a lot of care and dedication in the preparation of the gliders for the new season...